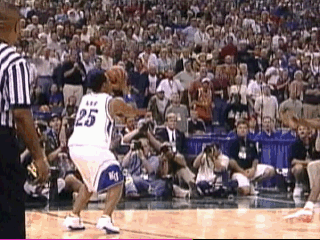 While some of you may prefer to watch five guys dance on roller skates while Albert Clifford Slater watches intently, it's time for the rest of us to plan out our weekend which starts Thursday at noon.

Now that the entire tournament is offered online, college students don't have to skip class to watch Thursday and Friday's (well let's be honest, if you have Friday classes you are either a dork or don't go anyway) games. But c'mon, most students will still skip class. And now high-school coaches can show one game on the class TV and the other games on their computer while secretly housing the kids who are skipping Ms. Bitchass's Enlgish and Mr. DeeBag's US History class.

I have been surveying the intraweb reading some stuff...

* Here is the official TV schedule with announcers included. The tourney starts off with Georgia and Xavier on one TV, and a 12-5 match-up being called by one Gus Johnson on the other TV. Looks like I'll be listening to two games at once.

* This website has all the shit you want to know about the tournament.

* Here are capsules for each game. Washington St. is 10-7 against teams in the NCAA field. That's a lot of games and a pretty good record.

* This guy is rooting for Belmont because he doesn't really like Duke all that much, and has some nice things to say about Coach K and Duke Point Guards.

* Deadspin previews the Georgia - Xavier game, referring to Dave Bliss as a "doofy tall white guy."



That's what it's all aboutz. No video needed. 'Nuff said.