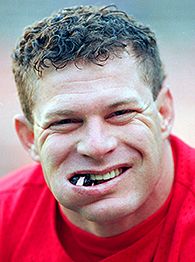 Nails woke up today, threw in a chaw and started tellin' tales of the good ole days. So I thought it was a good time to start talking baseball. Anyone who knows me knows that baseball is my life and I plan on going Cadillac crazy with baseball talk.

Fuck the Mitchell Report!

Let's look at what really happened this off-season.

* A-Rod opted out and then slapped his free-agency papers out of Scott Boras' hands and re-signed with the Yankees for 10 years and $275 mil. Championship!

* The Braves traded SS Edgar Renteria to Detroit for RHP Jair Jurrjens and 20-year-old OF prospect Gorkys Hernandez. The Tigers also acquired 3Beast Miguel Cabrera and P Dontrelle Willis from the Marlins for LHP Andrew Miller, OF Cameron Maybin, C Mike Rabelo, and prospects Eulogio de la Cruz, Dallas Trahern and Burke Badenhop.

* The Twins had a busy off-season. First they traded RHP Matt Garza, INF Jason Bartlett, and AA RHP Eduardo Morlan to the Rays for OF Delmon Young, INF Brendan Harris, and AAA OF Jason Pridie. Then after overplaying their hands with the Yankees and Red Sox, traded their ace, LHP Johan Santana to the Mets for prospects OF Carlos Gomez, RHP Philip Humber, RHP Kevin Mulvey, and 18-year-old RHP Deolis Guerra. The Mets then gave Johan a six-year $137.5 million contract.

* The Orioles traded LHP Erik Bedard for OF Adam Jones, loogy George Sherrill, and minor-league pitchers Tony Butler, Chris Tillman and Kam Mickolio.

These were all interesting moves for me and my fantasy team. I am in a keeper league and have Jurrjens, Willis, Miller, Maybin, Humber, Bedard, and Jones on my roster. I also have Phil Hughes who was part of the Yankees proposed package for Santana. So needless to say, I too had a busy off-season.

* The Yankees also did something they never do and locked up my favorite player Robbie Cano to a long-term deal and the Rockies locked up the Derek Jeter lovin Troy Tulowitzki.

I will eventually analyze all of these trades and tell you what they mean, but for know enjoy my boy Hanley. The Best Player...wait for it...in all of baseball!