There is currently a drug epidemic in the United States that many people have absolutely no idea about. According to Wikipedia, the drug is known as Purple drank, but from my experiences it is best known as Sizzurp or Syrup. Liquid Friggin' Codeine. You are pro-BOB-ly asking yourself, "How serious can this be?"

This is huge in the southern rap scene, especially in Houston where DJ Screw was known for two things. The first was slowing down tracks of a cut when he was mixing them. Anyone who knows about Three Six Mafia knows what I am talking about. And if you don't know about the Triple Six ummm...killa's, then you need to do some research. I mean, we have been bumpin that shit since middle school around here. No 8th Grade party was complete without some 3-6. The next was that...dat Syrup.

Anyway, DJ Screw, UGK (Pimp C and Bun B), Three Six, Z-Ro, Project Pat, Lil Wayne, etc. started rapping about Sippin on that Sizzurp. And then people who listened to this stuff, began trying to get their hands on liquid codeine. And I guess, they began realizing that it isn't really that difficult to do. God knows I have seen my fair share of this stuff. If I were a real journalist, I would probably attempt to write a story about this because anyone outside of this particular music scene is most likely unaware of the severity of the problem.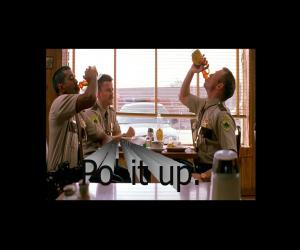 DJ Screw, the so called originator of the "purple scene," died from a codeine overdose in 2000 after releasing discs and mix-tapes with classic titles such as "Codeine Fiend," "Sippin' Codeine," and "Syrup Sippers." Then Big Moe, creator of classic CD's "City of Syrup" and "Purple World" died of an overdose in October of 2007. And on December 4, 2007, everyone's favorite Pimp...C, was found dead in a West Hollywood hotel. I'll give you one guess how he died.

Naturally, my first question is how much of this shit do you have to consume before Barney starts singing Enter Sandman and you are comatose? I always knew what Lil Wayne was talking about when he said he liked his Sprite Easter pink. But just look at these retards making "Lean." Are these guys drinking this shit nonstop like that one annoying guy who carries his water bottle around all day? Wake up. Drink some Sprite. Take shower. Drink more Sprite. Go to Work. Smoke Blunt. Check Blackberry. Drink more Sprite. Pass out. Never wake up again. Sounds fun.

In 2006, Terrence Kiel, who at the time was the San Diego Chargers starting safety, was arrested at the team facility for felony possession of codeine-based cough syrup with the intent to distribute. Kiel is from Texas and played at Texas A&M and was also tryin' to make that lean.

In case you are wondering here is the recipe...

"-Promethazine w/Codeine VC <- Sizzurp (active ingredient)
-Original Sprite Soda <- Mixing ingredient (although different flavors of sprite are now used, such as sprite remix)
-Jolly rancher candy <- Flavor additive"

I don't really have much to add to this issue other than that this shit is ridiculous and I thought that I should at least let people know what is going on in the world today or else you will keep walking around with a blind eye...Looking both ways before you cross the street, drinking your Starbuck's mocha-fagga-lotta, reading the New York Times, and failing to see what the hell is really going on in the world. Unless, of course, you watch Fox News because they report and you decide.